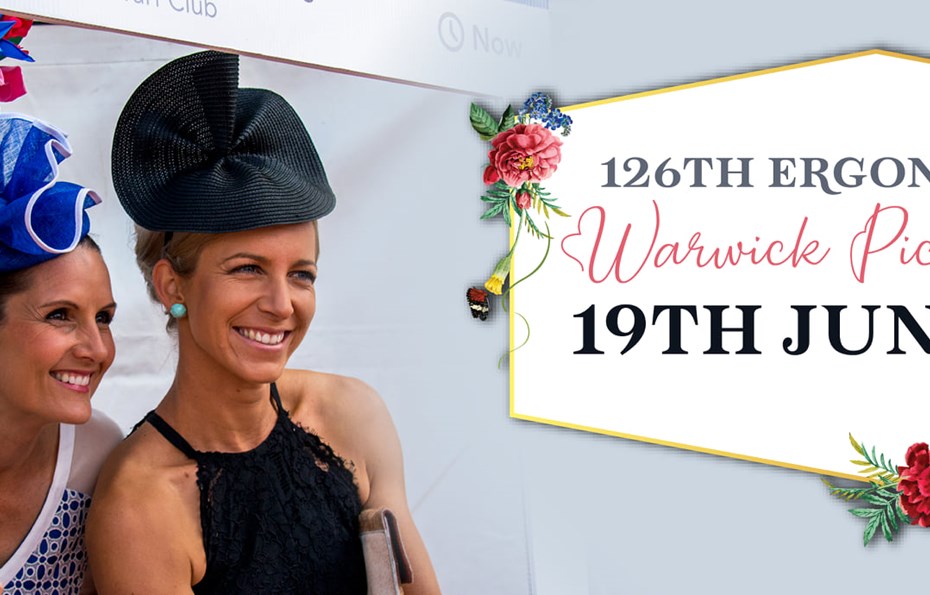 126th Ergon Energy Warwick Picnic Races
Sat 19 June 2021
tickets on sale from 2nd april, 8pm - click here to purchase
Gates open at 11am - close 8pm
Pre Purchased Event only - you need a Picnic ticket to access this area & must be 18 years & over.
Public tickets for $20ea will only give access to the eastern end (Bookmakers Ring to the Members Bar). This area is a licensed area no BYO food or drink. Children welcome in this area as long as accompanied by their parent or legal guardian.
5 Race Program proudly sponsored by Warwick Automotive, Grove Juice, Lessons Learnt Consulting & Southern Downs Ag
Entertainment in the Picnic Area
-Fashions on the Field - Best Dressed Lady, Best Dressed Man & Best Dressed Couple - Cash prizes for Winners & Runners Up
WARWICK HOTEL FASHIONS ON THE FIELD TERMS & CONDITIONS
-Cash prize for Best Dressed Table
-Live entertainment by 'The 78 Sound' from 4pm till 8pm.
PLEASE TAKE NOTE OF THE FOLLOWING IMPORTANT INFORMATION
* Due to Covid-19 restrictions the Elders Real Estate Trackside Pavilion can only seat 250 persons. Sponsors have been assigned their tables and there are currently 7 tables for sale - these tables are $700ea (seats a total of 10). First purchased will be assigned seating in the Pavilion.
Note - Ticket holders in the Elders Real Estate Trackside Pavilion are the only persons with access to this area.
Limited tickets available due to social distancing restrictions to the Picnic area.
* All other tables will be out on the grounds in the Picnic area - these tables are $600 ea (seats a total of 10). To reserve a table for your group you must book for 10. Otherwise purchase a single ticket for $60 and you and your group will be able to find a table in the Picnic area to set up for the day (not reserved). The layout of tables with chairs will be set up for social distancing.
* This is a BYO event. Please note due to Covid restrictions we are discouraging groups from bringing in shared food (individual portions are the go). We will have catering options with 4Stagioni Wood Fired Pizza, Verenice Coffee & The Juice Bar.  Food vans/stalls will be set up in the Picnic area from midday till late for service.
Attendees have a shared responsibility in event safety -
What's expected from you - do not enter the premises if you have
* Stay at home if unwell or have a cough, fever, sore throat, fatigue or shortness of breath.
* returned from overseas in the last 14 days
* been in close contact with a confirmed case of COVID-19: (coronavirus) in the last 14 days
The Warwick Turf Club will refund the ticket holder their money (only in cases as listed above) if they request a refund before gates open on race day.
* All attendees must follow the event's safety policies and procedures including any determined requirements by QLD Health at the time. Violation of such policies will cause removal from the event.
-How to seek assistance if becoming unwell during the event (locate security, staff in orange vest or first air in Secretary's office).
-Maintaining physical distancing is the individual's responsibility.
We can all work together to make this a fun & safe event!