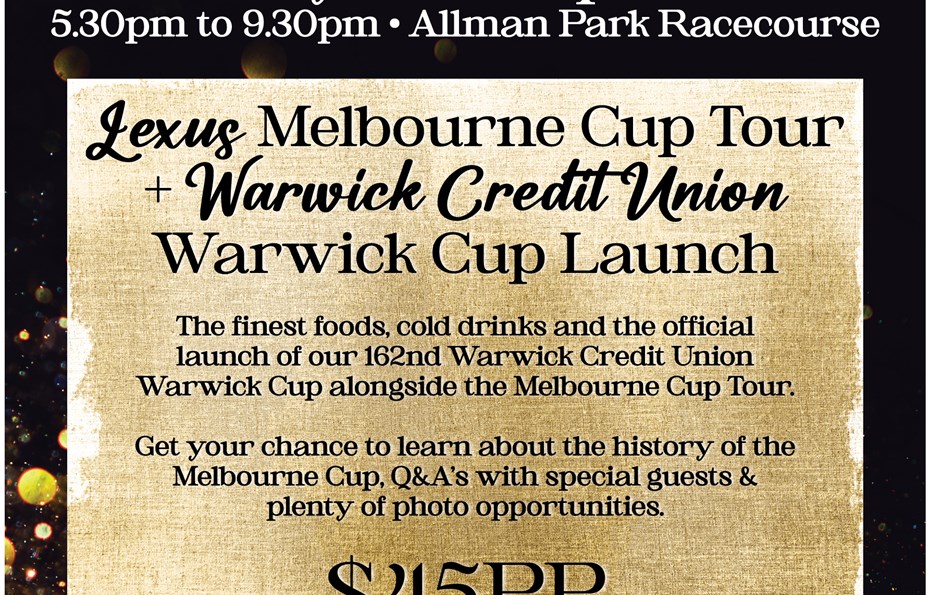 Lexus Melbourne Cup Tour/Warwick Credit Union Warwick Cup Launch
Tue 13 September 2022
The Lexus Melbourne Cup is on Tour making its way to Warwick on Tuesday 13 September 2022.
Program of Events
Morning session
St Mary's School Warwick
This is a closed event to the public.
Middle session
Club Warwick RSL in Kings Theatre
Free event for all – pop on in & get a photo with the Cup & listen to the racing talent regale you with their winning stories.
The day will end at the Warwick Turf Club for Dinner & Drinks in the Kidszone Australia Trackside Pavilion. Proudly sponsored by Canning Downs Stud, Lyndhurst Stud Farm & Raheen Stud.
$45.00/head Pre Purchased Event. Tables seat 8 people - starts at 5.30pm with dinner & dessert served. Cash bar operating from 5.30pm to 9.30pm and the Lexus Melbourne Cup team will entertain with the opportunity for Cup photos.