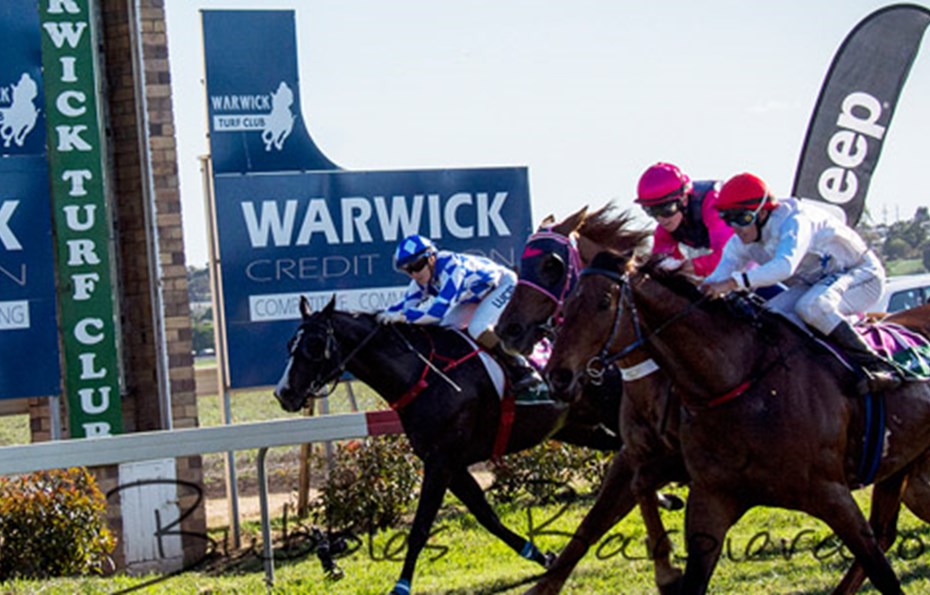 Membership of the Warwick Turf Club at $75.00 p.a. (incl. GST) offers substantial benefits and financial savings to the holder.
The membership year runs from 1st July to 30th June.
Members receive two annual badges, a member & a guest badge, and the badge holders gain entry to the racecourse plus entry to the members' lounge with its own separate TAB facilities.
Should the member and a guest attend each of the 8 race meetings held at Allman Park each year the cost of the membership effectively more than halves the cost of paying at the gate each time.
Warwick Turf Club members have reciprocal rights to the following race clubs:
* Beaudesert
* Esk
* Gold Coast – Welcome to attend any of The Gold Coast Turf Clubs upcoming non feature, semi feature and feature race meetings. On presentation of their Warwick Turf Club full members badge, they will receive one complimentary members day pass with access to purchase additional member's day passes.
* Kilcoy
* Lockyer
* Northern Downs
* Stanthorpe
* Toowoomba – Member's area access only (standard raceday admission still applies)
For more information on the benefits of becoming a member of the Warwick Turf Club Inc please contact the Secretary, or click here to download the membership form and apply today!
Members Lounge

Overlooking the track and finishing post this lounge with its own bar comfortably seats 50 people. Replacing the square tables in the lounge with bar stools creates a cocktail atmosphere with a comfortable capacity for 85 guests. The covered outdoor area surrounding the lounge provides additional space for your guests and business associates to relax and chat.
This area also contains a small kitchen with sink and washing up area, a preparation space and oven. Men's and Women's toilets are located on the same level as the Members Lounge and for the exclusive use of the function patrons when your event is in progress.
If you require additional equipment, we are happy to assist with this whenever possible. All additional hire equipment requests will be at the hirer's expense and liability.
Discounts

Discounts on hire fees for Members